Wed, 8 October 2014
Episode 18- TANZER
Angus is hangover and Jean is "Reaganing" on the latest episode of #QTPOD. Angus has been reflecting on old advice that Jean gave him about girls. Jean is pretty sure she'd make a pretty great homemaker. Jesse and Angus debate the merits of Prince's latest album, and Angus comes up with a great idea for a Limp Bizkit exhibition.
Our special guest is the exceptionally talented and beautiful Hayley Foster aka TANZER. She drops into the "cutey pad" to talk fashion, drag queens and her history in the music world. Her new single, That's Why Darling, is a lush, beautifully orchestrated tune. Check it out!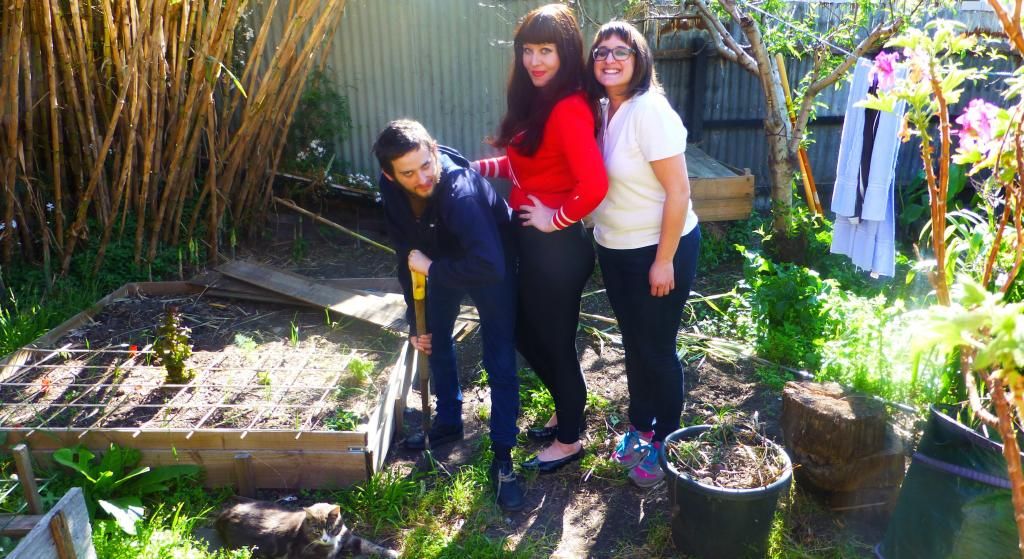 Come spend some Quality Time.
---
Thu, 4 September 2014
Episode 17- CLINTON "BÅR" MCKINNON
Episode 17.
Jean and Angus have just been to concert- hecklers, desperate metal heads and punk chics at a solo acoustic guitar show? Yep! Plus another edition of "Sux to be a Girl"
Our special guest is our dear friend, the wonderfully talented, slightly crazy and genuine sweetheart, CLINTON "BÅR" MCKINNON from Mr Bungle and Umlaut. We talk to him about creating music, time signatures and he addresses those pesky "reunion" rumours.
Come spend some Quality Time!
---
Mon, 28 July 2014
Episode 16- GREG SESTERO
Episode 16.
Jean and Angus muse about good Jail TV and how they'd fare in the big-house, plus we chat about ultimate creepy old man, Rolf Harris.
Our special guest is actor and author of The Disaster Artist, GREG SESTERO. You may know him as Mark from "the Citizen Kane of bad movies" The Room. We talk to him about bad movies, the naiveté of youth and the enigma of Tommy Wiseau.
Did you know that Jean was responsible for bringing The Room to Australia?
Did you know that Angus is one of the early Australian fans of The Room?
A bumper edition of Quality Time!
---
Tue, 17 June 2014
Episode 15- BRIDGET MACKEY
Episode 15.
Baldness, fast food instant indigestion, Jean talks to herself in the shower plus Angus does a Hugh Grant impression not to be missed.
The luminous playwright and dramaturge BRIDGET MACKEY visits the QTPAD, and we talk about writing for theatre, Samuel Beckett and lame-ass musicals.
Did you know that Jean quit her job at Hungry Jacks during the Perth Christmas Pageant in 1995?
Yep! It's another edition of Quality Time.
---
Wed, 21 May 2014
Episode 14- ALASDAIR TREMBLAY-BIRCHALL
Episode 14.
Angus isn't into zucchini but he has been hanging out with Skateboard P. Jean never, ever gets to hold the baby.
And we are joined by comedian and podcaster, Alasdair Tremblay Birchall to talk making comedy, hyphenated surnames and Snag Stand.
Condragulations, you're listening to Quality Time with Jean and Angus.
---
Tue, 15 April 2014
Episode 13- KIRKIS.
Episode 13.
Angus is sleep deprived; Jean bombed super badly on stage and we have another installment of Sux to be a Girl.
Plus we chat to musician KIRKIS as he waits for the Internet guy.
And we have a special edition of Good Song, Bad Song with guest JESSE FULTONE who talks about a classic album from the vault.
---
Tue, 11 March 2014
Episode 12- Documentary maker, JEFF DANIELS.
Episode 12.
Angus thinks he's fat, we discuss the recent INXS TV movie and Jean admits she thinks Michael Hutchence is a dick.
Plus we chat with documentary maker JEFF DANIELS who taught Angus at high school and is Jean's former housemate!
Yep, just another episode of Quality Time with Jean and Angus.
We love you Harold Ramis. R.I.P.
---
Tue, 18 February 2014
Episode 11- Nai & Paul from HIATUS KAIYOTE.
Episode 11.
It's our first episode for 2014!
Angus is drunk, Jesse is making his way around town in a limousine and Jean is going through her fourth Snoop Dogg phase.
Quality Time with Jean and Angus returns with special guests Nai Palm and Paul Bender from HIATUS KAIYOTE.
Come spend some quality time.
---
Wed, 11 December 2013
Episode 10- SIMONE TURKINGTON.
Episode 10.
Join us for the final episode for 2013! Jean reports back about her recent standup slot, we introduce a new segment called "Ang's Pranks" and we express our love for Neil Hamburger PLUS we are joined by fellow podcaster, writer and superfan SIMONE TURKINGTON who talks TV show obessions, Taco Bell and her fear of wet bread.
Comed spend some Quality Time.
---
Tue, 19 November 2013
Episode 9- ZAK HEPBURN.
Episode 9.
Jean has a terrible pair of shorts, reports from Angus's birthday party and horror films from childhood PLUS we chat to film programmer ZAK HEPBURN about cult films.
Come Spend some Quality Time.
---